2017 Boys & Girls Club of Kenosha Youth of the Year: Na'kia Hughes
Na'kia Hughes , the 2017 Youth of the Year for Boys & Girls Club of Kenosha, has been a member of the club since age 11. Na'kia made the decision to become a member when she was in the fifth grade. She understood, at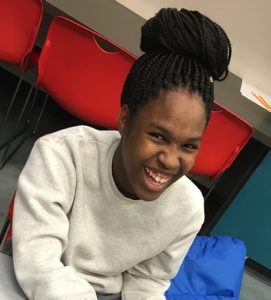 a young age, that the club was a safer environment where she could truly be herself without judgement. She learned that through her membership she not only gained mentors and new friends, but a family; the club has been her safe space.
"Change won't happen by itself but it can certainly start with us. The future is near for us and I want to protect it."
Some of Na'kia's interests at the club are the Keystone Club and mentoring through Smart Girls and SMART Moves programs.  She found it fairly easy to blend in with her peers and create positive, lasting relationships with staff at the club. Na'kia has particpated in a large variety of music, performing arts, career development and community service programs since her enrollment at the Boys & Girls Club of Kenosha. She had the opportunity to work last summer through our Summer Youth Employment Program and spent her time with the Kenosha Literacy Council as an Administrative Assistant and tutor. 
Na'kia Hughes is a sophmore at Harborside Academy and hopes to attend college to be an orthopedic surgeon.  With a 3.3 cumulative GPA and recent employment with Culver's, Na'kia continues to elevate her standard of academic excellence and good character/leadership skills  through challenging herself daily.  In addition to being a good student, she partakes in extracurricular activities which included being the stage manager for the production Annie at her high school. She is the Boys & Girls Club of Kenosha Teen Center Keystone President, a community service group within the club. Na'kia always takes initiative in volunteering for any community service project, fundraising activity and event that is planned. She also attended the Keystone National Conference in Chicago in March of 2017 to network and learn best practices from teens from around the county to bring back to her peers in Kenosha.  
Na'kia's vision is for America's youth to to better equipped to handle and counteract negativity. She wants youth to be prepared to handle being treated differently but with the mindset that they will be able to handle any demons that come their way.
Na'kia gives thanks to all those that have supported her and the Boys & Girls Club of Kenosha members. She would like to strongly urge youth to show some accountability, stating that "Change won't happen by itself but it can certainly start with us. The future is near for us and I want to protect it."